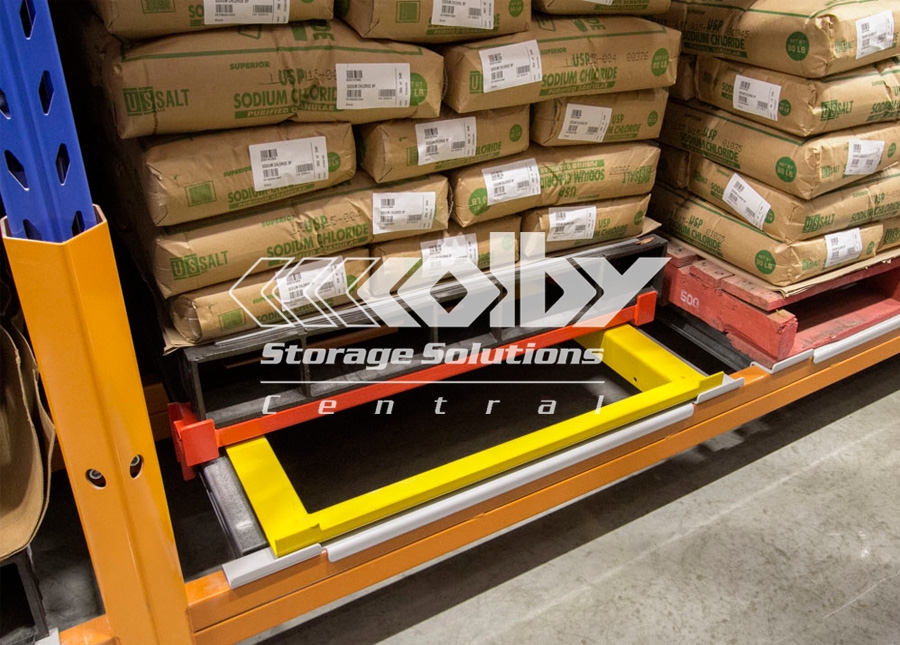 Push Back Rack

Push Back Racking:  Saves space whilst offering high density, high speed storage with front loading and unloading
Push Back Pallet Racking permits the storage of pallets up to six deep.A Push Back racking system contains inclined rails that are mounted inside the racking. When a pallet is removed, the remaining pallets will automatically follow, moving to the front position ready for picking. 
Push Back Pallet Racking is predominantly suitable for bulk goods that can be stored on pallets according to the first in, last out principle. In addition, Push Back Pallet Racking is an effective substitute to other forms of racking, allowing dense storage while ensuring stock is easy to access.
Other benefits:
Maximum use of floor space
Fast operation
Greater selectivity
High density storage with increased picking productivity
Why Choose Colby's Push Back Racking?
Here at Colby, we continually invest in product development, focussing on designing and manufacturing reliable racking components. Our high standards of ColbyRACK products will ensure years of reliable, outstanding performance.
The Push Back Pallet Racking system is no exception to this, and comes complete with:
Rack uprights available in a range of widths, depths, and thicknesses
Strong frame bracing
A unique diamond slot profile providing a stronger and more efficient interlock between upright and beam
Racking end protection for safe operation
Push back tracks for easy sliding
Front and rear upright protectors to minimise damage