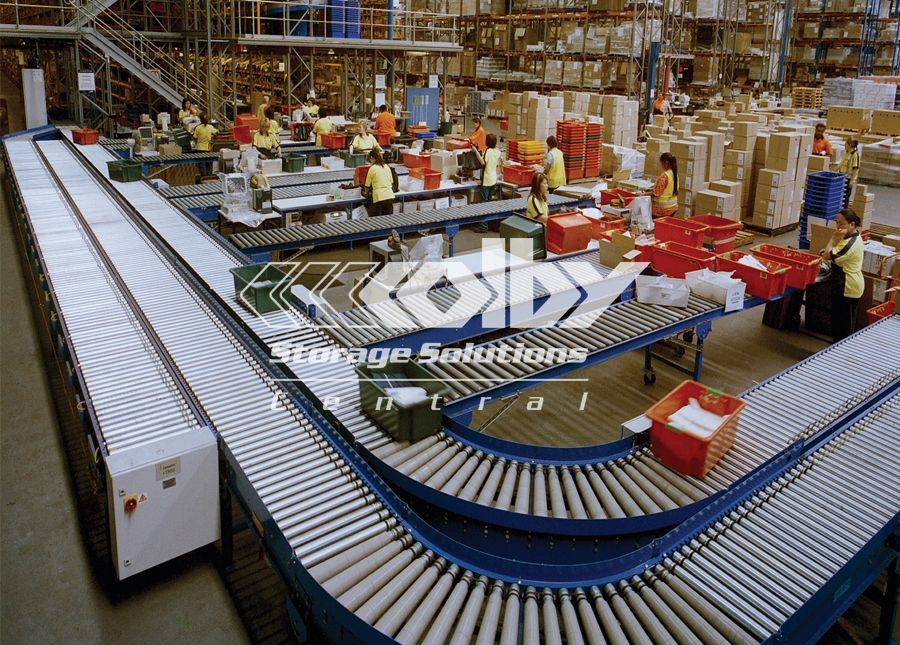 Powered Conveyors

Lineshaft Conveyor
The highly versatile lineshaft conveyor can run multiple conveyors and a variety of equipment off a single drive, making this an economical choice for a large range of conveying needs. Lineshaft is also available on curved beds as well as junctions, merges and divert beds. Independently driven carrier rollers make lineshaft more versatile than conventional belt or chain-driven live roller conveyors. Fewer drives means less noise, lower initial cost, and lower maintenance costs.
Widths available: 464mm, 616mm, 768mm & 921mm
Slider Bed Belt Conveyor
This conveyor model economically handles products over long distances. It can transport a wide range of load sizes and shapes, including difficult to convey products such as crates, bags, bundles, rolls and unpackaged goods. The belt moves across a steel supporting bed, offering an extremely stable surface. Fitted with rough top belting, it can be used to convey goods between different floor levels.
Widths available: 464mm, 616mm, 768mm & 921mm
Live Roller Conveyor
This belt-driven roller conveyor enables variable drive pressure throughout the system. It uses a roller bed as the conveying surface and a flat belt as the driving force. This gives optimum reliability for rugged conveying applications, including cartons, totes or bagged and bundled items. At merge and divert points, pressure can be increased to full driving force.
Widths available: 464mm, 616mm, 768mm & 921mm