RackMAN Design, Analysis & Certification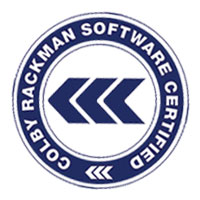 RackMAN is an exclusive software tool designed by some of the world's leading structural engineers.
RackMAN Certification means that your system will meet the necessary safety standards. It will give you the peace of mind to know that your goods and your staff are secure in your ColbyRACK installation.
RackMAN utilises finite element modelling and second order analysis to rapidly develop and verify ColbyRACK designs, which are fully compliant with AS4084-2012 and/or FEM 10.2.02.
Developed by Dematic engineers, RACKMAN is a valuable tool that allows all ColbyRACK designs to be analysed by carrying out advanced structural calculations to ensure compliance with design standards.
A certificate can be generated and printed for the customer's records, certifying the design of the rack as installed.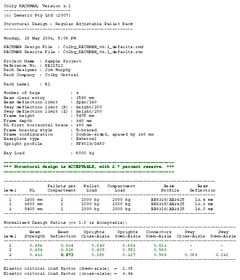 Click here to view the
Sample Drawing Model (PDF).Please note the following points for all installations of Colby Pallet Racking:
ColbyRACK should be regularly inspected for damage and repaired accordingly.
Do NOT splice frames without referring to Colby Central first as splicing can affect rack integrity.
Do NOT add, change or remove beam levels without referring to Colby Central first as changes to beam levels can alter frame capacities and overall rack integrity.
Do NOT exceed the safe loading limit of each bay and level as detailed on ColbyRACK Load Signs.